Summer Berry Crisp
POSTED BY
Erika Schultz, Denver Acupuncturist, Nutritionist
| Aug, 11, 2015 |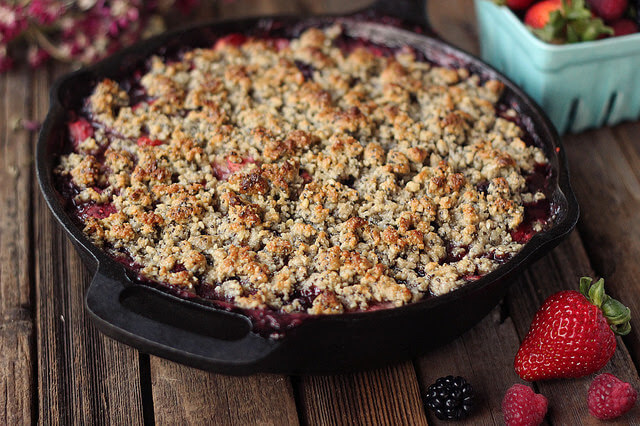 Filling – Summer Berry Crisp:
3-4 cups of organic berries (frozen or fresh)
1 TBS vanilla extract
1 teaspoon arrowroot powder
Topping – Summer Berry Crisp:
½ cup walnuts or brazil nuts
½ cup pecans or hazelnuts
¼ cup date sugar*
¼ cup oatmeal*
¼ tsp cinnamon
¼ tsp cardamom
Pinch of sea salt
2-4 TBS butter
In a pot, combine berries with vanilla extract. Cook on low for ~10 minutes; stirring frequently. Add arrowroot powder to thicken the sauce.
In the meantime, add all of the ingredients for the topping into a food processor and blend until combined.
Pour berries into a medium size oven-friendly dish; cover with topping. Broil on low for about 5 minutes. Watch carefully; it has a tendency to cook fast and burn. Serve warm or cold.
*Optional ingredients based on your dietary preferences.
In the fall and wintertime, the Summer Berry Crisp is an amazing topping for a healthy sweet potato casserole.
(recipe adapted from Primal Blueprint: Quick and Easy Meals by Mark Sisson, p6)
TAGS :
berry berry crisp casserole fall recipes recipe Summer Berry Crisp Recipe Sweet Potato winter recipes
0 Comment