Spicy Candied Sweet Potatoes
POSTED BY
Erika Schultz, Denver Acupuncturist, Nutritionist
| Jan, 20, 2014 |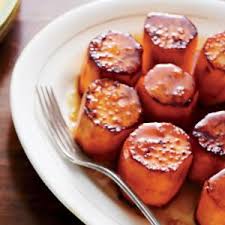 Sweet potatoes are rich in minerals, specifically potassium, calcium, manganese, and magnesium. Even more concentrated are their vitamin complexes. Vitamin A ranks the highest with a whopping 18866 IU (before they are cooked.)
Vitamin A plays a critical role in tissue repair and maintenance and is important for healthy eye sight. Also present in significant quantities are vitamins B6 and B12 which are important nutrients for digestion and energy production as well as hormone balancing.
Ingredients
2 to 3 large Sweet Potatoes or Yams cubed into 1/2 inch
4 tbs Coconut Oil or Ghee
2 to 3 tsp Sea Salt
1 tsp Black Pepper
1 tsp Allspice
1 1/2 tsp Dried Ginger
1/2 tsp Cinnamon
1 tsp Cloves
1/4 tsp Cayenne Pepper (optional)
Instructions
Pre-heat oven to 375*
Cut sweet potatoes into small cubes. 1/2 inch works well. Melt coconut oil or ghee. Put cubed sweet potatoes into one or two large glass baking dishes. (Spread the cubes out so that there is only one layer.) Pour oil/ghee over cubes and toss to coat well.
In separate bowl combine spices, salt, and pepper and mix well. Sprinkle over oil coated cubes and toss to coat.
Roast at 375* until soft and lightly browned. About 30-45 min. Stir about every 10-15 min to keep them from sticking to the pan. Serve warm! Makes enough for 4 people.
HINT: Save the leftovers and fry them up for breakfast in bacon fat or butter. SO delicious!!! Seriously, I always make extra so I can have them in the morning.
TAGS :
recipes Spicy Candied Sweet Potatoes Sweet Potato Sweet Potato Recipe sweet potatoes
0 Comment