Magic Mineral Vegetable Broth
POSTED BY
Erika Schultz, Denver Acupuncturist, Nutritionist
| Oct, 23, 2017 |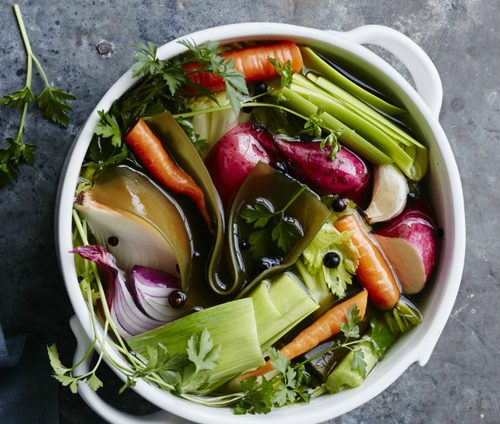 By Guest Contributor- Haley Peck
As the weather is getting cooler, I couldn't help but share one of my favorite Fall/ Winter recipes. After reading the Clean Soups cookbook by Rebecca Katz, I am even more convinced that my favorite cold-weather broth recipe is keeping my immune system strong and fighting away all the bad guys trying to get in the way of my health this winter!
Why do we call this a "magical mineral broth" and not your average "vegetable broth"? What it comes down to is all of the wonderful vegetables, herbs and spices that extract rejuvenating, hydrating, and detoxifying minerals from them. This isn't your store-bought box of vegetable broth that is loaded with processed salt and additives. Mineral broth comes from simple, fresh, wholesome, organic produce that is nourishing and nutrient dense.
Unfortunately, in today's world that we live in, mineral deficiencies and toxic overload are more common than ever. This stems from poor diet, the use of medical drugs/ prescriptions, stress, and digestive problems, which lead to a variety of symptoms and diseases. One major cause of nutrient insufficiency that is most commonly seen by practitioners is low stomach acid. According to author, Jonathan Wright, MD, low stomach acid can lead to reduced absorption of iron, calcium, magnesium and zinc, as well as other nutrients. Low levels of any of these nutrients can cause anything from mild symptoms to a variety of diseases. Mineral deficiencies may also be due to gluten sensitivity, chronic infection, inflammation, and other common irritants just to name a few.
So how can you add a little bit more of these vital minerals into your everyday life? Not only is mineral broth jam packed with magnesium, potassium, and sodium, which makes it amazingly hydrating, mineralizing and alkalizing, but it is also loaded with phytochemicals, antioxidants, anti-inflammatories, vital minerals, and herbs and spices that work together to help keep your immune system healthy.
What if I told you that your vegetable scraps and leftover herbs can provide you with these minerals, boost your immunity and hydrate you all at the same time? How often do you throw away the ends of your carrots or skins of onions when cooking? A great money and produce saving tip is to preserve all scraps from cooking by throwing them in a plastic bag or glass jar, and freezing for mineral broth stock. This includes onion and garlic skins, potato peels, carrot or celery ends, and leftover parsley/ herbs. Sometimes the most nutrients are hiding out in the hard-outside shell of an onion! Don't let them go to waste.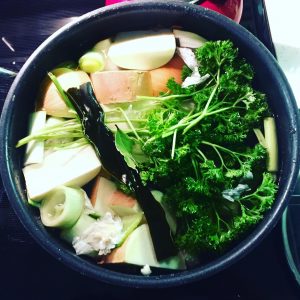 Here is a recipe directly from Rebecca Katz website https://www.rebeccakatz.com/magic-mineral-broth-recipe-rebecca-katz/.  You don't have to let this broth be boring. Create it with all or just some of the ingredients listed. Use it as a base for hundreds of different types of soups, or to replace water when cooking quinoa or rice. I like to add ginger, turmeric, chili paste and coconut milk for a warming, Thai-coconut soup base!
Ingredients:
6 unpeeled carrots, cut into thirds
2 unpeeled yellow onions, cut into chunks
1 leek, white and green parts, cut into thirds
1 bunch celery, including the heart, cut into thirds
4 unpeeled red potatoes, quartered
2 unpeeled Japanese or regular sweet potatoes, quartered
1 unpeeled garnet yam, quartered
5 unpeeled cloves garlic, halved
1/2 bunch fresh flat-leaf parsley
1 (8-inch) strip of kombu*
12 black peppercorns
4 whole allspice or juniper berries
2 bay leaves
8 quarts cold, filtered water
1 teaspoon sea salt
Instructions:
Rinse all of the vegetables well, including the kombu. In a 12-quart or larger stockpot, combine the carrots, onions, leek, celery, potatoes, sweet potatoes, yam, garlic, parsley, kombu, peppercorns, allspice berries, and bay leaves. Fill the pot with the water to 2 inches below the rim, cover, and bring to a boil.
Remove the lid, decrease the heat to low, and simmer, uncovered, for at least 2 hours. As the broth simmers, some of the water will evaporate; add more if the vegetables begin to peek out. Simmer until the full richness of the vegetables can be tasted.
Strain the broth through a large, coarse-mesh sieve (remember to use a heat-resistant container underneath), then add salt to taste. Let cool to room temperature before refrigerating or freezing.
TAGS :
dairy free detoxification fall recipes gluten free recipes inflammation kids health nutrition preventative medicine recipes veggies
0 Comment